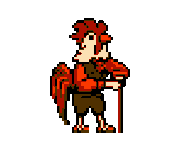 The Airship Enthusiast is a character in Shovel Knight. He is, as his name suggests, an enthusiast of airships. He even owned one once and has ties with Propeller Knight.
Appearance
Edit
The Airship Enthusiast appears as a bipedal white rooster with a red comb and an orange beak. He wears an orange shirt with a brown vest and brown trousers. He holds a black-red cane.
Shovel of HopeEdit
In Shovel of Hope, the Airship Enthusiast can be seen at the Armor Outpost, inside the front of the Aerial Anvil with the Yoppler.
He also appears in the ending, among the court of King Pridemoor after he regained his throne from King Knight.
Plague of ShadowsEdit
In Plague of Shadows, he is the only character that does not flee when Plague Knight invades the Armor Outpost. He stands outside the fancy shop.
Specter of TormentEdit
In Specter of Torment, the Airship Enthusiast appears briefly during the ending. He rides aboard a small airship among Propeller Knight's fleet. As the fleet takes flight, he slows down when approaching the 'Edge Farmer on the Flying Machine's bridge. He throws him a rose before leaving, which impresses the hedgehog.
King of CardsEdit
The Airship Enthusiast appears once again in King of Cards as an active aviator, as seen in concept art during one of Yacht Club Games' livestream.
Shovel of HopeEdit
"Airship Enthusiast: I do say, sir! Why, I haven't seen such a decadent airship since I sold mine! Hah!"
Plague of ShadowsEdit
"Plague Knight: Hee hee hahaha, If they're not cowards, they're chickens!"

"Airship Enthusiast: I'm a ROOSTER, Sir, And I've invested in half the town! Do as you must, But I'm unflappable!"

There is an identical rooster found in the Mysterious Area called "Rooster Gent" who also talks about airships. Rooster Gent could be another name for this NPC. This is evidenced by both sharing the same sprite named "Rooster Gent", which is also the name of his original concept art.[1]

This was further supported during the "Yach Club Presents" stream of the 8.28.19., where during the Q&A segment the developers talked about how much of a bigger role the Airship Entusiast, first encountered during Shovel Knight's campain, will play in King of Cards, addressing the Airship Entusiast as Rooster Gent every single time.

According to the 2019 Gamescon demo, the Airship Enthusiast real name is Cooper and he was the captain of the Flying Machine, which at the time was called Glidewing.[2]
References
Edit
Community content is available under
CC-BY-SA
unless otherwise noted.