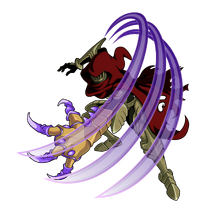 Curios are items for Specter Knight to use in Specter of Torment as alternative weapons to his Scythe.
Similarly to Plague Knight's Arcana, they are fueled by a meter, called Darkness. This gauge refills by collecting Darkness Jars, which can be either found through the stages, or by defeating/damaging enemies and bosses, as doing so will spawn an orb of Darkness which will automatically fly to Specter Knight.
Curios are obtained by collecting the various Red Skulls found in each stage, trade them with Red in the Tower of Fate hub and then complete his mini curio-based trial. Uniquely, Curios can be further upgraded to become more powerful. First the glass vessel with the Curio symbol, found in the Tower of Fate library, must be filled with three offerings of 1000 gold (3000 gold total). This will summon Legion, who will enhance the Curios for a cost of 4000 gold each.
Specter Knight Darkness Capacity can be increased by collecting Darkness Wisps in special chests found in the stages. Should he miss those, they can be purchased from Missy in the Tower of Fate.
The word "Curio" describes a strange and interesting object that evokes curiosity.
Curios were planned to be able to be leveled up to level 3, but instead they made it only up to level 2.
Community content is available under
CC-BY-SA
unless otherwise noted.