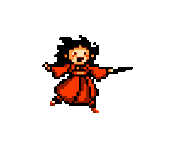 The Hoop Kid is a minor character in Shovel of Hope and King of Cards. She plays around in the Village with a hoop and a stick.
Appearance
Edit
The Hoop Kid is a young girl who wears a red dress and shoes with black hair. She can be seen hoop rolling with a stick and hoop.
Shovel of HopeEdit
The Hoop Kid can be found in the Village, past the shops. Shovel Knight will bounce if he Shovel Drops on her hoop. If he hits her hoop with a charged Shovel Slash (either via the Charge Handle ability or the Dynamo Mail), it will fly off the screen. The Hoop Kid will then stop playing, puzzled.
She reappears in the ending at the Clockwork Tower along with the Playing Kid, waiting for Tinker Knight to finish building an automated toy replica of his tank with the help of the Shovel Smith and the Armorer. Once the toy is built, she runs after it.
King of CardsEdit
In King of Cards, the Hoop Kid can be found standing atop the House of Joustus's roof, where she gives King Knight a Cooper card.
Shovel of HopeEdit
When talked to while playing:
"Hoop Kid: Wow, mister knight, nice stick! C'mon, let's play!"
When talked to after launching off her hoop:
"Hoop Kid: ....."
King of CardsEdit
When talked to:
"Hoop Kid: You found my secret lookout. Great view, huh? I've always wanted to ride in an airship. It's my dream!"
"King Knight: That sounds dumb! Whizzing about in a giant floating target!"
"Hoop Kid: Hey, it is not! The Glidewing's captain can dodge any threat. He's even got his own card! Here, have one."
When talked to again:
"Hoop Kid: "
Bouncing on the Hoop Kid's hoop for a continuous five seconds will award Shovel Knight with the Hooper Feat.
In one of her concept art, she was supposedly bug catching. In another one, she plays hoop with the Playing Kid, her carrying the hoop, him the stick.[1]
References
Edit
Community content is available under
CC-BY-SA
unless otherwise noted.