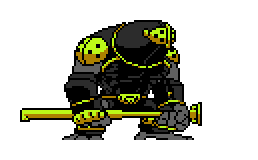 | | | |
| --- | --- | --- |
| " | I'm restin' my toes after a long shift digging for Mole Knight. He's a strict task master, but he gets results. | " |
Mole Minions
are a
major enemy
found in the
Lost City
. They are unusually fragile for a major enemy, having only four hit points, but they do take reduced damage from the
Alchemy Coin
and the
War Horn
. Armed with golden staffs, Mole Minions have two attacks; the first functions similarly to the ranged attack of the
Griffoth
but it has not one but two streams of fireballs that interweave. The second is to have a blade emerge from their weapon followed by a forward thrust. Since they are positioned beneath ceilings this attack renders them vulnerable to the
Shovel Drop
.
In Specter of Torment, a Mole Minion can be seen attending Creech's bar after Mole Knight's defeat.
King of CardsEdit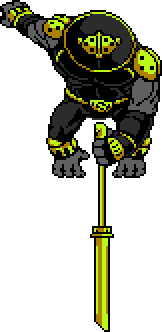 In
King of Cards
, one Mole Minion appears as a full-fledged miniboss in
Excavation Station
, one of the Lost City stages. This Mole Minion hangs from the wall and has nine hit points. As he moves along the wall, he uses his staff to attack
King Knight
from above. Like the other Mole Minions, this one has two attacks, but they're somewhat different; the first attack with the fireballs is nearly identical, but the fireball streams are aimed downward. For the second attack, the Mole Minion has a blade emerge from his staff, jams it into the ground, and then pulls the staff out, detaching the blade and leaving it in the ground. As the Mole Minion leaves these blades behind, King Knight can
Shoulder Bash
into them so he can spin jump high enough to be able to bash into the Mole Minion. Or, if King Knight is wearing the
Battery Brigandine
armor
, he can just Shoulder Bash upwards to hit the Mole Minion.
Mole Minion Card
Edit
One of the Joustus cards in King of Cards is a Mole Minion card which has 3 Double Arrows facing left, up, and down.
Joustus Deck
Edit
King of CardsEdit
When first talked to:
"Mole Minion: I'm restin' my toes after a long shift digging for Mole Knight. He's a strict task master, but he gets results. Work hard, play hard, buddy. You want to challenge me, I'm ready to go anytime."
"Yes"
"Mole Minion: Have a seat and plant your feet, pal. Let's Joust."
Community content is available under
CC-BY-SA
unless otherwise noted.