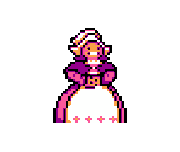 Molly is a minor character in Shovel Knight: Treasure Trove and a tournament player of Joustus. She can be found in the Village.
Appearance
Edit
Molly is a cheerful woman wearing traditional white and pink clothing, complete with a dress and a hat.
Shovel of HopeEdit
In Shovel of Hope, Molly stands in front of the hops in the Village. She playfully flirts with Shovel Knight.
In the ending, she appears on the Flying Machine, wooed by Propeller Knight.
King of CardsEdit
In King of Cards, Molly is one of the competitors to the Joustus game in the Card Shack. She teases King Knight to a game, but is tougher than she lets on. She is ranked C in card skill and plays with a small board (2x2).
Shovel of HopeEdit
"Molly: Oooooh, you've got a pretty face! You should come visit often!"
King of CardsEdit
When first talked to:
"Molly: Hey golden boy, I like your crown! But does the brain underneath match the looks? How about a game of cards to find out?"
If accepting the duel:
"Molly: Oh boy! I hope I win!"
In her original concept art, her full title is "Matron Molly". She is also described as delightful and goody, maybe knitting.[1]
References
Edit
Community content is available under
CC-BY-SA
unless otherwise noted.