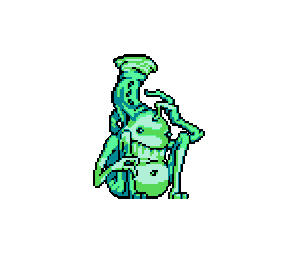 Oolong is a minor character in Plague of Shadows. He admires Team Plague but can only contribute by playing music to pally his lack of fighting skills. Sadly his repertoire is dependent upon his lackluster memory.
Appearance
Edit
His appearance is of a pale green humanoid creature, with a bulbous body and long slender limbs. His head has a curious funnel like appendage growing out of it, which is how he plays his music.
Plague of ShadowsEdit
Oolong can be found at the Potionarium on the far left side of the main hall. Similar to the Bard, he can play scrolls found in Plague of Shadows. Whilst Music Sheets are given to Percy as scrap paper, the ones with writing on both sides are thrown away and land in Oolong's funnel, causing him to remember the song in question.
When throwing a bomb directly in his funnel, he belches explosions to the bomb's powder.
Oolong reappears at the Troupple Pond during the ending, fulfilling his wish of playing for the Troupple King while celebrating the defeat of the Enchantress.
When talking to him for the first time:
"Oolong: Ahhh, everyone work SOOOOOO hard down here. Yes! And Oolong want to help...can help! Can make MUSICS! But...got tired. Fell asleep. When awake... Forgot almost all musics. So sad. Poor Oolong. Will think very hard. Maybe remember more musics. Then, I help! I help Science!"
Asking to play a music:
"Oolong: So, Doctor Knight. Oolong ready. You listen some musics now?"
"Bye!":
"Oolong: ...Want to help. Oolong is no good fight. Get dent in head tubes."
"Play me a song!":
"Oolong: YES! Bravo! Only know best musics. I remember...."
Remembering a new song:
"Oolong: Oh! Spent long time to remember musics! I can play GOOD songs. Will be good treat."
Community content is available under
CC-BY-SA
unless otherwise noted.