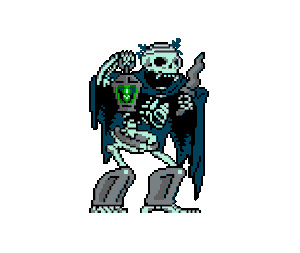 The Passmaster is a Super Skeleton who runs the Streetpass Arena in the Nintendo 3DS version of Shovel of Hope.
Personality
Edit
The Passmaster is quite welcoming and friendly towards Shovel Knight, despite his appearance. He always refers to him as "warrior" and complements his performance in the arena regardless of how he did.
The Passmaster guards the entrance to the arena. According to a human Adventurer outside the arena, it is the undefeated champion of the arena. In that regards, the Passmaster says that through consistent training, Shovel Knight may one day live up to its glory. He also offers Shovel Knight to view or record his Battle Ghost.
Talking to the Passmaster without any streetpass:
"Passmaster: SORRY, WARRIOR! It appears you have no streetpasses yet! But welcome back to the Streetpass Arena, all the same!"
"Passmaster: Would you like to record a new battle ghost or view your last recording?"
"View!"
"Passmaster: EXCELLENT! Let's have a look at your amazing tactical performance, shall we?"
After viewing:
"Passmaster: Well now, that was some quality entertainment!"
"Record!"
"Passmaster: Excellent! The arena awaits! Best of luck! NYAH HAH HAH HAH!"
After recording:
"Passmaster: You completed your recording. Make sure to come back to battle other ghosts through streetpass!"
"Not now"
"Passmaster: WHAT!? Gather your wits, and then return! The Streetpass Arena will be waiting! NYAH HAH HAH HAH!"
The Passmaster uses the same sprite sheet as the Super Skeleton, although with a different color palette named "Super Skeleton PM".
Community content is available under
CC-BY-SA
unless otherwise noted.