Fire Emblem Warriors: Three Hopes - The Loop
Play Sound
For the main campaign and game, see Shovel Knight: Shovel of Hope.
Shovel Knight: Treasure Trove is the complete edition of Shovel Knight, a 2D side-scrolling platformer developed by Yacht Club Games. The game was first released in Q2 2014 for Windows and Nintendo 3DS platforms, and in the following three years on Mac, Linux, Wii U, PlayStation 3, PlayStation 4, PlayStation Vita, Xbox One, Amazon Fire TV, and lastly Nintendo Switch.
The Treasure Trove edition, released in March 2017 on Nintendo Switch and April for all other platforms, contains the original game and all other 4 campaigns that were funded through the original game's Kickstarter.
Story
[
]
"
Long ago, the lands were untamed, and roamed by legendary adventurers! But villainy ran rampant, and in time, even the most stalwart heroes fell. In the absence of champions, the Enchantress and her Order of No Quarter swept into power.
"
Shovel Knight features four campaigns, each with its own playable character, story, gameplay and altered stages:
In addition, the battle mode stretch goal originally planned during the Kickstarter, was reworked in a "fifth" campaign of sorts known as Shovel Knight Showdown, a fighting game with its own story mode. Due to system limitation Showdown is the only campaign not included in neither Treasure Trove nor as a stand alone in the 3DS and PS Vita versions.
Official Description
[
]
"
Shovel Knight: Treasure Trove is the full and complete edition of Shovel Knight, a sweeping classic action adventure game series with awesome gameplay, memorable characters, and an 8-bit retro aesthetic! Become Shovel Knight, wielder of the Shovel Blade, as he runs, jumps, and battles in a quest for his lost beloved. Take down the nefarious knights of the Order of No Quarter and their menacing leader, The Enchantress. But that's not everything! Shovel Knight: Treasure Trove also features three additional campaigns that are games all unto themselves! Take control of Plague Knight, Specter Knight, and King Knight on adventures of their own! Together, they form a grand and sweeping saga! With a fully cooperative campaign, a full-featured challenge mode, a 4 player battle mode, and body swap mode, you'll be digging for a long time. With Shovel Knight: Treasure Trove, you get it all. Uphold the virtues of Shovelry, earn relics and riches, and discover the true meaning of shovel justice!
"
Gameplay
[
]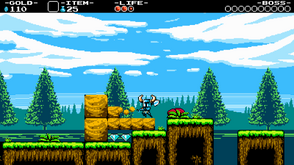 Shovel Knight is a 2D side-scrolling platform game. The game features 8-bit graphics designed to resemble classic games. While the color scheme closely mimics the Nintendo Entertainment System's original color palette, the game features modern graphical techniques, such as parallax scrolling.[1][2] Each character uses a single primary weapon and various secondary ones requiring resources (respectively Relics, Arcana, Curios and Heirlooms). In addition, they each have their own mobility designs, which vary greatly from one character to another.
In the original campaign, Shovel of Hope, the player controls the eponymous Shovel Knight who wields a sharpened shovel to attack enemies, destroy barriers, and dig up treasures. Shovel Knight can use his weapon in mid-air to perform a down thrust that can be used to bounce off of obstacles or the heads of enemies, while dealing damage. His Relics require Magic which can be regenerated with jars, limited in quantity in each stages.
Plague Knight's gameplay in Plague of Shadows relies more on planning and variety, while also taking a fresh approach on the game's stages. He uses bombs as his primary weapons, and their effect can be customized to take advantage of each situation. He also uses Bomb Burst and double jump to soar through levels at the cost of a more hazardous mobility. His Arcana consume Power which regenerates quickly over time but can also take longer to do so if used too repeatedly.
Specter Knight's gameplay in Specter of Torment has a more dynamic approach on stages. He uses a scythe which offers a longer range of attack, and can use it to dash through enemies and reach higher grounds. His mobility is close to parkour, giving him the ability to run shortly up walls and jump from one to another. His Curios are regenerated with Darkness, which can be easily recovered from slashing enemies.
King Knight's gameplay in King of Cards uses the simplest control scheme compared to both of the previous two. His primary attack is the Shoulder Bash, which puts him into a spin jump directly after colliding with an obstacle or enemy allowing him to bounce off of them. His Heirlooms use Vigor which functions similarly to Shovel Knight's Magic. Additionally, there is a minigame found throughout the campaign called Joustus where you use cards to defeat an opponent by claiming gems on a board. You can also buy Cheat cards to gain an upper hand.
Special Message
[
]
One beaten every campaign a message from Yacht Club Games will be shown.
"
We, Yacht Club Games, extend to you our heartfelt congratulations! You have completed every Shovel Knight campaign and that is no easy task. You're an amazing player! Thank you for sticking with it to the end. We appreciate your time and dedication. We'll see you on the next adventure. Until then, please continue to explore, play, and find every secret!
"
After the message, all four playable characters can be seen on the title screen.
Versions
[
]
For the differences between game platforms, see Version Differences.
| Versions | Windows | Mac | Linux | Nintendo Switch | Wii U | Nintendo 3DS | PS3 | PS4 | PS Vita | Xbox One | Amazon Fire TV |
| --- | --- | --- | --- | --- | --- | --- | --- | --- | --- | --- | --- |
| Digital | Yes | Yes | Yes | Yes | Yes | Yes | Yes | Yes | Yes | Yes | Yes |
| Physical | Europe | No | No | Yes | Yes | Yes | No | Yes | Yes | Yes | No |
In Spring with the release of the second boss campaign and the arrival of the Nintendo Switch version, the original Shovel Knight edition of the game was renamed Shovel Knight: Treasure Trove. Each campaign will then be purchasable individually along with the newly named version.
Japanese Release
[
]
Releasing the game in Japan was originally one of the game's proposed Kickstarter goals. Yacht Club Games partnered with Japanese localizer 8-4 to work on a quality translation of the game to Japanese. In addition, Yacht Club Games applied various cosmetic visual and audio changes for the Japanese version as a tribute to localization of classic Famicom titles.[3] The game's Japanese title is ショベルナイト (pronounced "Shoberunaito").
Yacht Club Games initially assigned Nintendo as their Japanese publisher. Nintendo published the game for both the Wii U and Nintendo 3DS on June 30, 2016. Nintendo also released a physical retail copy for the Nintendo 3DS, as well as the Shovel Knight amiibo. The amiibo was both bundled with the game, and sold separately.
Yacht Club Games has since officially registered their company in Japan, allowing them to self-publish the game without Nintendo. Yacht Club Games then released Shovel Knight: Treasure Trove for the Nintendo Switch on May 30, 2017, and for the PlayStation 4 and PlayStation Vita on July 27, 2017.
See Yacht Club Games Japan's official website here for more information.

Nintendo Co., Ltd.'s official page for Shovel Knight on the Wii U and Nintendo 3DS.
Recurring Characters
[
]
Main Characters
[
]
Trailer
[
]
Gallery
[
]
References
[
]