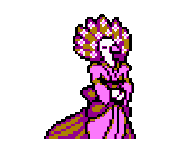 The Ticketer is a minor character in Shovel of Hope. He is in charge of ticketing at the Hall of Champions.
Appearance
Edit
The Ticketer is a bipedal white peacock similar to the Peacock Gent. He wears a pink robe with red feathers.
In Shovel of Hope, the Ticketer stands outside of the Hall of Champions requesting visitors to pay a 5,000 gold for entry to the art gallery. The entrance fee is a scam however, and any visitor who enters ends up being trapped inside the haunted hall. Upon defeating the Big Creep and freeing those trapped in the hall, the Ticketer feigns gratitude and "reward" Shovel Knight a mere 50 gold.
When talked to:
"Ticketer: This is the Hall of Champions, a living monument to the founders of this great land. Admission for one? That will be 5,000 gold, please."
Not enough gold to pay:
"Ticketer: Oh, I'm sorry, you can't afford admission. Maybe you could start a fundraising campaign? Pah ha ha!"
Refusing to pay the fee:
"Ticketer: Ah well, I understand, the arts can't expect real support from peasants."
Paying the fee:
"Ticketer: Wonderful! Clearly a discerning patron of the arts. Enjoy your visit!"
Upon defeating the Big Creep:
"Ticketer: Hero! Thank you SOOOOOO MUCH for saving us from the ghost menace! How thoughtless of me, not telling you the place was haunted! Then again, that's the risk you run, paying for something in advance before you know the details! Please allow me to reward you for your gallant bravery!"
When talked again:
"Ticketer: Please come back and enjoy the collection any time!"
The Ticketer's lines about "fundraising campaigns" and "paying in advance" are references to Kickstarter, the platform that Yacht Club Games used to raise money to make the game.
In Plague of Shadows, the Head Guard stands outside the hall in his place. However a Cultured Fellow with his exact color scheme is met inside the hall. He express a disturbing eagerness in seeing Plague Knight beaten, even proclaiming that said violence is the reason he pays taxes.
Community content is available under
CC-BY-SA
unless otherwise noted.